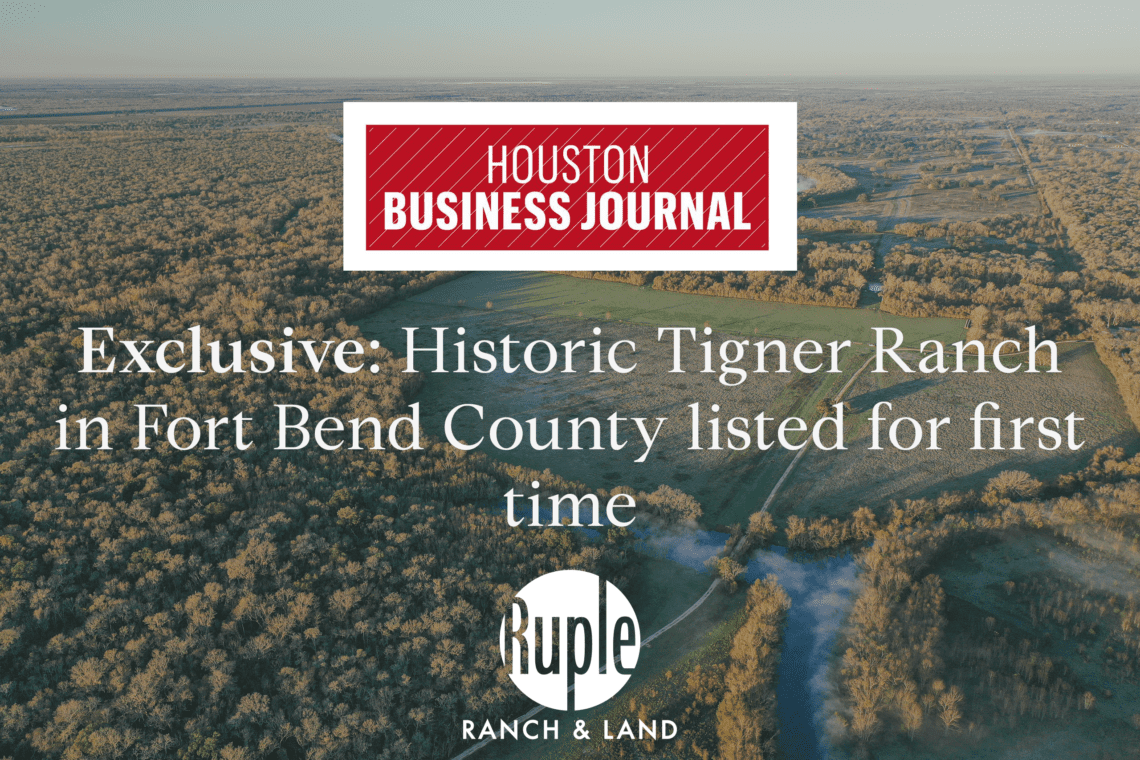 Exclusive: Historic Tigner Ranch in Fort Bend County listed for first time
Link to full article: Exclusive: Historic Tigner Ranch in Fort Bend County listed for first time
Photo by: NextFlightMedia
Article by: Jeff Jeffrey
A 657-acre ranch in Fort Bend County is hitting the market for the first time in its 147-year history.
The Houston office of New York-based Compass (NYSE: COMP) confirmed Dec. 20 that Tigner Ranch is now for sale, with an initial asking price of $8.9 million — about $13,500 per acre.
Tigner Ranch is located just south of Sienna, Johnson Development Corp.'s master-planned community near Missouri City. The ranch is about 30 miles from downtown Houston and is fully fenced for cattle operations. It also has hay-production capabilities and qualifies for an agricultural exemption, meaning its property taxes are calculated based on the productive agricultural value of the land, as opposed to the land's market value.
Tigner Ranch offers an abundance of wildlife, including deer, hogs and waterfowl. Its location includes about a half mile of Brazos River frontage, meaning it could serve as an ideal recreational hunting property, according to a news release from Compass.
Improvements to the ranch include electricity, a maintained road and one oil well site.
The listing is being handled by Derek Ham with Ruple Ranch & Land of Compass.
"The location and size make this property ideal for both investment and recreational opportunities," said Ham. "This once-in-a-lifetime opportunity to own a piece of Texas history is priced well as recent sales in the area demonstrate significantly higher closings in comparison."
The historic ranch has been owned by the Tigner family for generations. One member of the family, Hugh Pannell, was among the five signers of the original charter for the city of Houston.
In 1984, attorney Herbert Tigner received a Texas Senate proclamation of mourning when he passed due to having lived a distinguished life. After leaving the U.S. Army in 1945, he returned to Houston, where he founded the Union Standard Life, Southern Life and National County Mutual insurance companies.
The listing of Tigner Ranch comes just a few weeks after oil tycoon T. Boone Pickens' 65,000-acre Mesa Ranch in the Texas panhandle sold for $170 million.
According to The Dallas Morning News, a group of buyers led by West Texas oil and gas investor Bill Kent purchased more than 36,000 acres on the western side of the ranch. The purchase includes a 25,000-square-foot lodge.
The Dallas Morning News also reported that cattle rancher Travis Chester bought the 27,700-acre eastern part of the ranch in September.